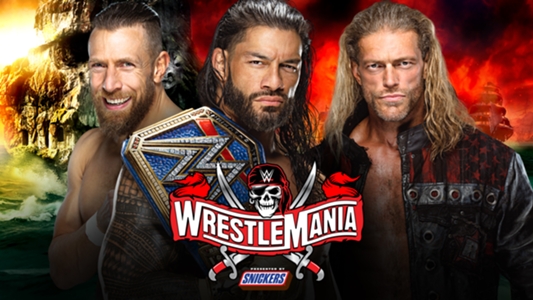 To a chorus of "Roman sucks", on top of the steel steps, Reigns powerbombs Bryan through the announce table and then Edge comes out of nowhere and spears him.
It appears Uso is going to play no role in the outcome as Edge hits a DDT on the steel steps and is taken out by a number of medical personnel.
Ripley takes advantage, scoops Asuka right up and hits the Rip Tide and scores the pinfall to win the RAW Women's title for the first time.
WWE has told DAZN News in a press release that just like night one, night two of WrestleMania 37 is sellout of 25,675 fans inside Raymond James Stadium in Tampa, Fla. Next at WrestleMania 37, Asuka puts her RAW Women's Championship on the line against Rhea Ripley.While the match should be good, the build has been rushed since Ripley came out of left field to get the opportunity.
When he finishes yelling at Paul, the social media influencer pushes Zayn down to a chorus of loud boos.Paul raises Owens hand to even louder boos.
Edge looked to be on his way to regaining the belt 10 years to the day he had to relinquish the World Heavyweight Championship due to what was believed to be at the time to be a career-ending neck injury.