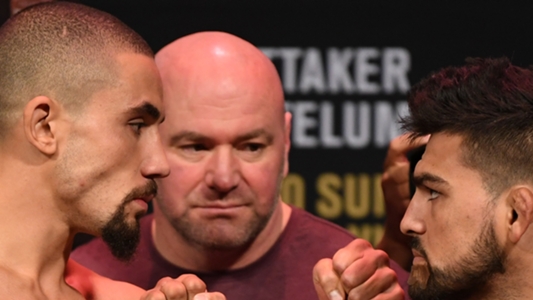 Robert Whittaker took a highly-anticipated UFC Fight Night main event matchup against Kelvin Gastelum and made it his very own showcase.
Fresh off the dominating victory, Whittaker flashed an ear-to-ear grin when the talk of a possible rematch with middleweight champion Israel Adesanya was broached.
"I think it's about time we crossed paths once again," said Whittaker, who suffered a second-round KO loss to Adesanya in November 2019, having bounced back to win three straight fights since.
During other sequences, Whittaker simply kept a healthy space from Gastelum's clubbing power with a crisp jab that came as part of stinging combinations.
The former middleweight champ also used exceptional lateral movement around the Octagon to stifle Gastelum and facilitate his shot selection.
With the fight well in hand midway through the fifth round, Whittaker pulled off a shrewd takedown to eat time off the clock and secure the victory.