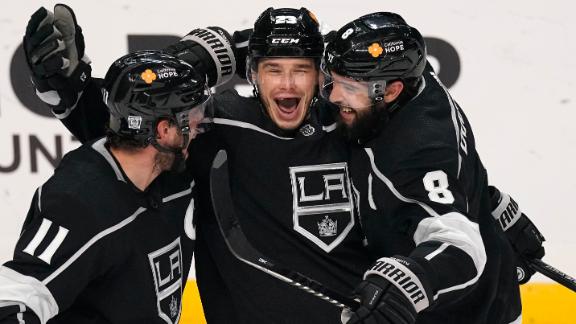 Quick made 28 saves, Jaret Anderson-Dolan had a goal and an assist, and the Kings beat the Wild 4-0 Tuesday night.
Nick Bjugstad hooked Kings defenseman Austin Strand in the offensive zone inside the opening two minutes.
Even routine plays seemed unfamiliar to the Wild after so much time off, best exemplified by Minnesota rookie forward Kirill Kaprizov losing his footing and ending up sliding on his knees to scuttle a promising rush.
Minnesota worked its way into the game in the second period, drawing two early penalties and forcing Quick into some difficult saves.
"They eventually found their legs and skated themselves back into the game and it wasn't an easy night," Kings coach Todd McLellan said of Minnesota.
In a coincidence created by Minnesota's COVID-19 pause, Fiala returned from the three-game suspension he received for the hit on Roy against the Kings.