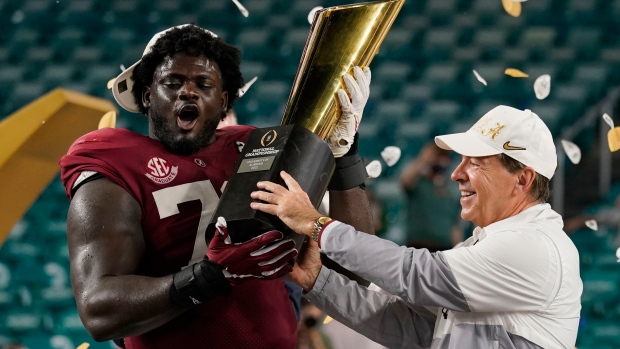 The confetti cannons sent a crimson and white shower into the air and the Tide players ran to the sideline to grab their championship hats and T-shirts.
But this time, the band playing the fight song was a piped in recording and when "Sweet Home Alabama" blared, only a few thousand Tide fans were still in the building to singalong.
The Tide finished perfect during a season that could not have been further from it as COVID-19 forced teams into quarantines and endless testing and uncertainty every single week with games played in mostly empty stadiums.
Using an array of motions and misdirections, outgoing offensive coordinator Steve Sarkisian had Ohio State heads spinning trying to track down Smith.
He returned to the sideline in the fourth quarter with his right hand wrapped to the wrist, two fingers taped together, and wearing a Heisman mask.
Along with Jones, another member of that 2017 recruiting class, they will leave Alabama as the leaders of a team that managed to make an arduous march from through the pandemic look easy.