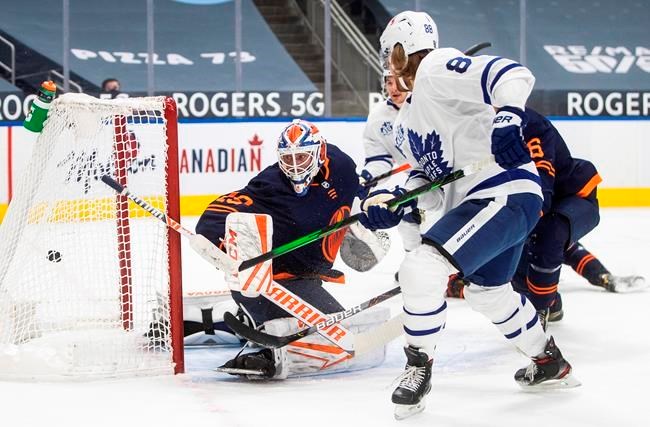 The Leafs and Oilers — who split a pair of games in Toronto last week that failed to produce the expected fireworks with the likes of McDavid, Matthews, Draisaitl and Mitch Marner sharing the same ice surface — will go right back at it Saturday in Edmonton for the fourth of nine meetings between the teams in this season's all-Canadian North Division.
The Oilers tied things 2-2 seven minutes into the final period when Draisaitl poked home his second of the night and sixth of the campaign on an Edmonton man advantage.
After the Leafs went ahead 4-3 thanks on Matthews' goal, Edmonton got its seventh man advantage with under three minutes to go when Nylander went off for tripping, but couldn't find the mark with Koskinen on the bench as Draisaitl hit the post from a sharp angle.
Having swept a two-game set in Calgary against the Flames to kick off this swing through Alberta, the Leafs opened the scoring at 9:31 of the first when Spezza snapped a 27-game goal drought dating back to Feb. 7, 2020.
The Oilers, who were coming off Tuesday's 6-4 loss in Winnipeg to the Jets, had a couple of good chances to get even later in the period, but Andersen denied Dominik Kahun on a 2-on-1 before Draisaitl missed a wide-open cage.
Toronto doubled its advantage with 1:38 left in the first just as a power play expired when John Tavares took a pass from Spezza and found Nylander at the lip of the crease to score his third of the campaign, and first since opening night.