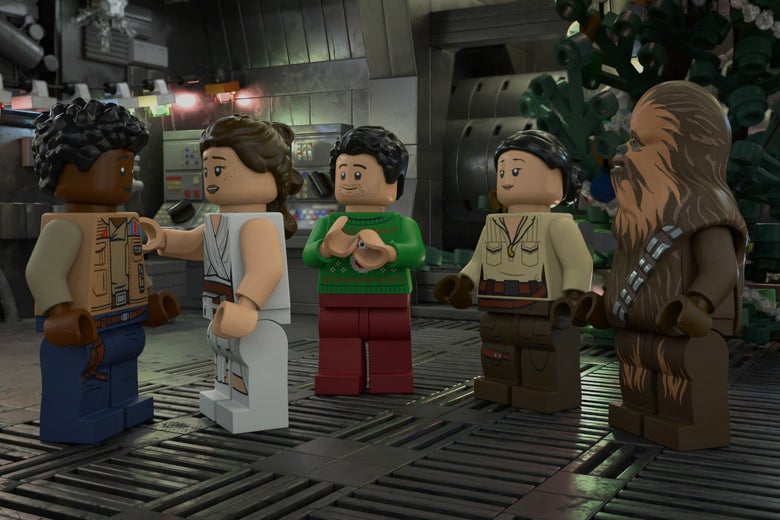 Rey has something to tell Finn.Disney Plus World Chess Champion Garry Kasparov on What The Queen's Gambit Gets Right What's Fact and What's Fiction in The Crown Season 4 DeAndre Hopkins' Game-Winning Grab Was the Best Hail Mary Catch Ever John Oliver Debunks Bogus Election Fraud Claims When He'd Rather Be Talking About Weird-Looking Turtles
This includes a couple of shots at The Rise of Skywalker , like when Emperor Palpatine visits the future and is dismayed to find he is dead and no longer ruling the galaxy.
When asked how he got there, he replies, "Uh, Life Day miracle," which, hey, is as good an explanation for Palpatine's presence as the one offered in The Rise of Skywalker .
Finn spent The Rise of Skywalker attempting to tell Rey … something … but was cut off before he got the chance, and strangely, the movie ended without the filmmakers ever resolving what exactly the message was.
The last time that happened was Revenge of the Sith , another movie that was crowd-pleasing to a fault and raised more questions than it answered—creating an opportunity for others to fill in the gaps, which led to some of the most satisfying storytelling in the franchise .
The Lego Star Wars Holiday Special may just be a goof, but it hints at the possibility of exploring other underdeveloped aspects of The Rise of Skywalker , and hopefully that means we can expect other writers to step in and bridge more of the gaps the movie left behind.