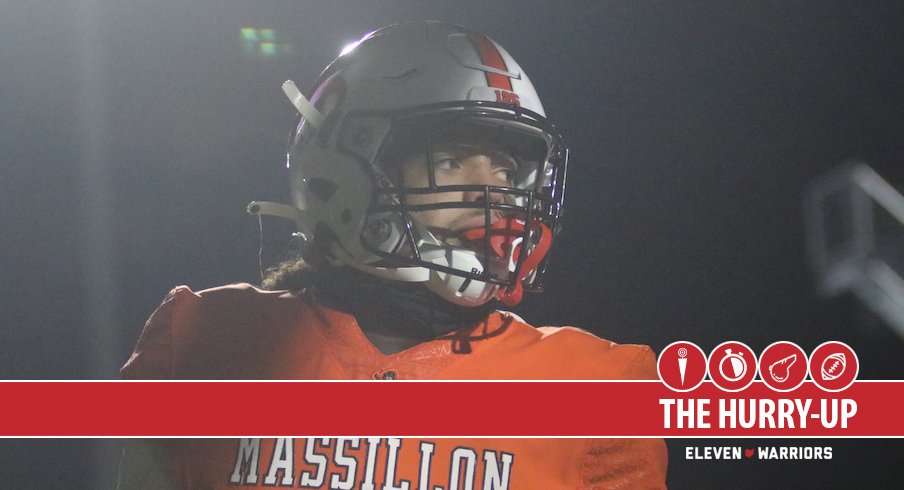 Ohio State Commits' Schedule for Nov. 20-21, 2020 Player (Class) Team Opponent Day, Time (Record) SDE JACK SAWYER (2021) PICKERINGTON NORTH SAWYER OPTED OUT OG DONOVAN JACKSON EPISCOPAL (TEXAS) SEASON FINISHED FINAL RECORD: 2-4 RB TREVEYON HENDERSON HOPEWELL (VA.) SEASON PPD UNTIL SPRING QB KYLE MCCORD ST. JOSEPH'S PREP (PA.) IDLE (4-0) CB JAKAILIN JOHNSON DE SMET (MO.)
(4-1) S JANTZEN DUNN SOUTH WARREN (KY.) CHRISTIAN COUNTY Friday, 7 p.m. (5-0) S/LB JAYLEN JOHNSON CINCINNATI LA SALLE MASSILLON WASHINGTON (@Marysville) L, 14-10 (8-3)* TE SAM HART CHEROKEE TRAIL (CO.) @ OVERLAND W, 34-0 (4-2) OT ZEN MICHALSKI FLOYD CENTRAL (IND.)
SEASON FINISHED FINAL RECORD: 7-3 P JESSE MIRCO PROKICK AUSTRALIA SIGNED WITH OHIO STATE LB GABE POWERS (2022) MARYSVILLE SEASON FINISHED FINAL RECORD: 6-2 ATH DASAN MCCULLOUGH BLUE VALLEY NORTH (KAN.) @ SHAWNEE MISSION NORTHWEST W, 30-6 (6-2)* LB C.J.
HICKS ARCHBISHOP ALTER ST. FRANCIES DESALES (@London) L, 23-13 (8-3)* CB JYAIRE BROWN LAKOTA WEST SEASON FINISHED FINAL RECORD: 8-1 OT TEGRA TSHABOLA LAKOTA WEST SEASON FINISHED FINAL RECORD: 8-1 TE BENJI GOSNELL EAST SURRY (N.C.) SEASON PPD UNTIL SPRING TE BENNETT CHRISTIAN ALLATOONA (GA.) @ LASSITER W, 44-9 (8-0) As we've been discussing all year, Carrico is not the lone Ironton player being recruited by Ohio State.
In his sophomore season, however, Carter has been trying to focus on balancing out the pursuit of winning a state championship and a college recruitment that has seen Ohio State, LSU, Notre Dame, Maryland and Northwestern – in addition to his offers from Arkansas, Cincinnati, Pitt, Toledo and West Virginia – show interest in him.
The Hurry-Up is your nightly dose of updates from the Ohio State football recruiting trail, keeping tabs on the latest from commits and targets from around the country.