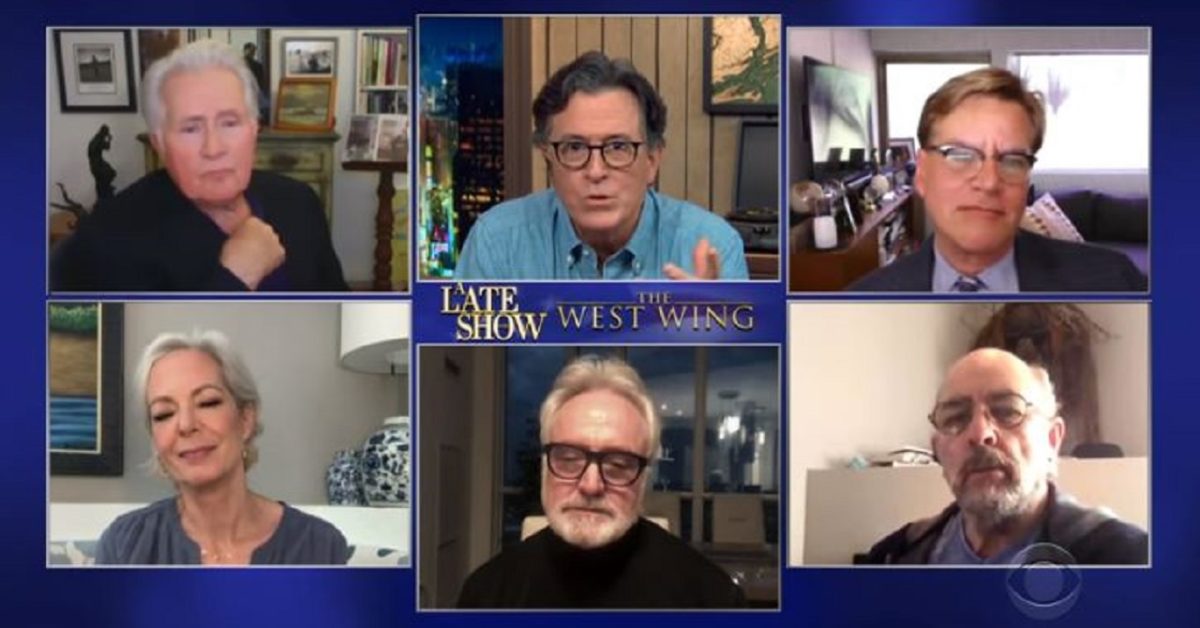 On October 15th, President Bartlet's administration will reconvene once again when HBO Max's A West Wing Special to Benefit When We All Vote reunites Martin Sheen, Rob Lowe, Dulé Hill, Allison Janney, Janel Moloney, Richard Schiff , and Bradley Whitford (with Sterling K. Brown stepping in for the late John Spencer in the role of Leo McGarry) with original series creator Aaron Sorkin and Thomas Schlamme to get out the vote this November.
To honor the occasion, The Late Show host and avid series fan Stephen Colbert dedicated a special Friday edition of the late-night talk show to invite Janney, Schiff, Sheen, Whitford, and Sorkin to discuss the project, look back on the series' influence, and offer their thoughts on the current state of disarray that is Trump's White House.
Filming over several days at the Orpheum Theatre in Los Angeles and set to premiere on the streaming service on October 15th, the special will feature a theatrical performance of "Hartsfield's Landing," the famous third season episode that finds Sheen's President Bartlet playing chess against Sam (Lowe) and Toby (Schiff) as the Chinese play war games in the Taiwan Strait.
"Tommy and I are incredibly excited to be getting 'The West Wing' cast back together for this staged reading and to support When We All Vote in their efforts to get all of us involved in this election," said Sorkin when the event was first announced.
A look at The West Wing reunion special (Image: HBO Max / Eddy Chen)Along with giving fans a chance to revisit one of their favorite series, the special is also meant to raise awareness for and support When We All Vote, a non-profit, nonpartisan organization co-chaired by former First Lady Michelle Obama which was founded to increase participation in U.S. elections (with WarnerMedia making a donation to the organization).
Posted in HBO , NBC , Preview , streaming , Trailer , TV , YouTube | Tagged Allison Janney , bleeding cool , bradley whitford , cable , cbs , Dule Hill , hbo max , Janel Moloney , john spencer , martin sheen , preview , richard schiff , rob lowe , stephen colbert , sterling k. brown , streaming , teaser , television , The Late Show , The West Wing , trailer , tv