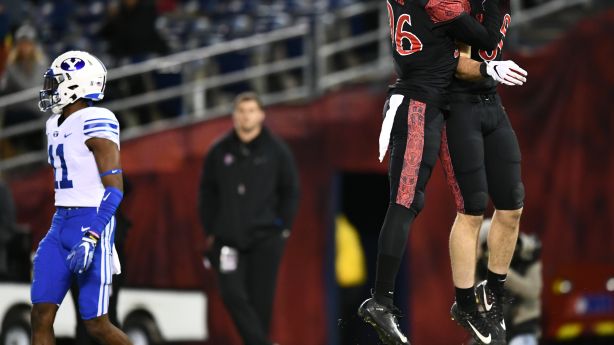 True to form — and a day after adding Boise State back into the Nov. 7 slot on its schedule — that game turned into San Diego State's trip to Provo, a game originally scheduled Nov. 14 that was flipped to Dec. 12 after the conference opted to postpone the fall football season, then abruptly jumped back in last week.
"I'm giddy that we have a game tonight, and I don't know how it's going to go next week," BYU athletic director Tom Holmoe said.
The two teams will meet for the first time at LaVell Edwards Stadium since BYU left the Mountain West in 2011 — a significant milestone from a school that has had coaches and some administrators who were upfront and vocal against the Cougars' "declaration of independence."
(Photo: Scott G Winterton, KSL)"I'd say 9 years ago, this wouldn't have happened," Holmoe said Friday during his annual media summit with local reporters.
Holmoe added that "the same thing is true with the Pac-12," noting particularly rivalry games like USC-Notre Dame that have helped open up the Cougars to fill in the gaps of conference scheduling.
It puts a new meaning to the coaching mantra of "taking one game at a time" and keep every door cracked open for a potential readjustment.