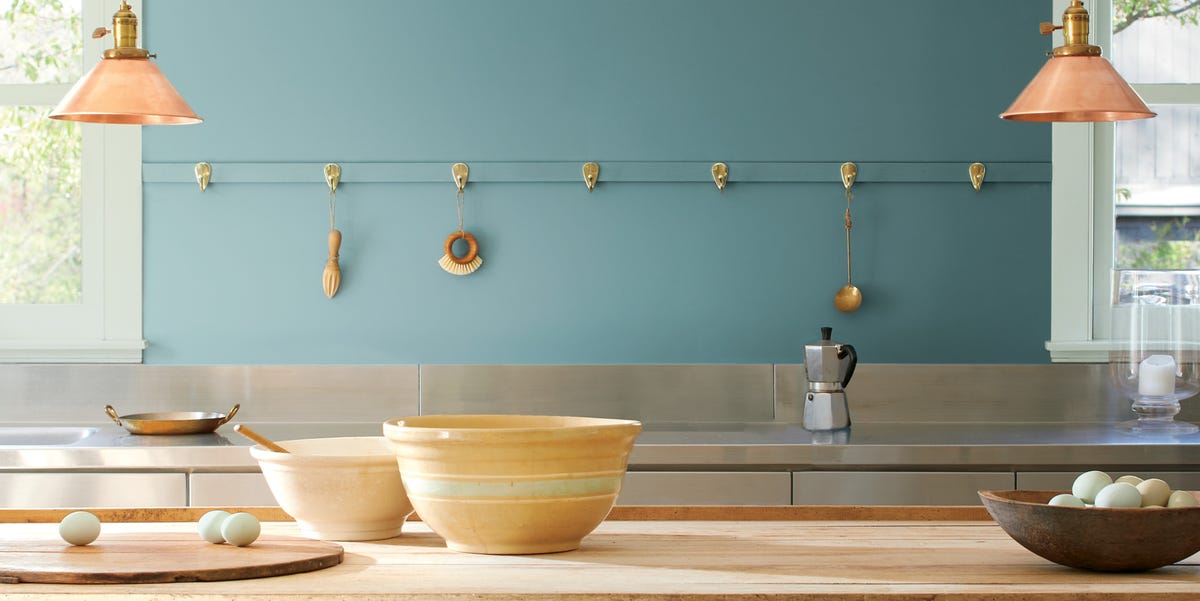 Young Huh meanwhile, was confident that the shade would be a bright green, while Jay Jeffers proclaimed, "I am loving deep, red tones."
"It has a really beautiful blend of blue and green with a touch of gray that gives a softened elegance that's very inviting," says Andrea Magno, director of color marketing and development at Benjamin Moore.
A reveal video for the hue opened on an appropriately homey scene—soft linen sheets, cashmere slippers, and coffee brewing—then followed a child running out into nature, amidst green grass and brown gravel before cutting to a couple setting a table with freshly-baked bread, bright vegetables, and glowing candles.
Aegean Teal can read blue, green, or gray—and it works anywhere from the kitchen to the living room, an appropriate consideration at a time when different parts of our homes are serving more purposes than ever.
Aegean Teal is also of 12 colors in Benjamin Moore's Palette of the Year, which all have a "sun-baked quality" and can all be used in a variety of ways for comfortable, casual, grounded rooms.
"The warm, 'lived-in' quality of the 12 hues within the palette has a lot of resonance with the post- pandemic home, specifically the need for comfort and moments of joy," Magno says.