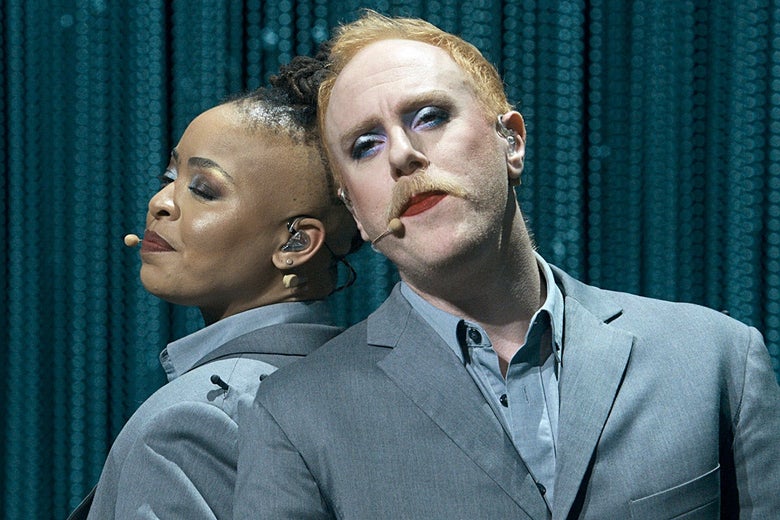 Tendayi Kuumba and Chris Giarmo in American Utopia .HBOIn Spike Lee's film of David Byrne's American Utopia , an ensemble of 16 musicians and vocalists fill the stage of Broadway's Hudson Theatre, moving freely around one another, all wearing identical gray suits.
Throughout the film, which premieres on HBO and HBO Max on Saturday, one performer really pops out: Chris Giarmo, whose sparkly eye shadow, expressive mustache, and precise dancing make him a kind of bedazzled counterpoint to his monochrome bandmates.
A downtown fixture who, like everyone in the cast, made his Broadway debut in American Utopia , Giarmo—along with his fellow dancer and vocalist Tendayi Kuumba—is onstage nearly every moment in the show, singing and performing Annie-B Parson's unique choreography.
The New Jersey–born Giarmo Zoomed with Slate from a brilliant pink room in his home in New Orleans, where he discussed drag, arch support, and bringing downtown art uptown.
1 Song Wagner Was Too Big to Cancel "Hate Watch" Only Begins to Describe Emily in Paris
And for me to come from Annie-B's world, where that's extremely natural for me to do, and then to perform with Tendayi Kuumba, who comes from a very diverse dance background, but most recently Urban Bush Women—that's a very different style of movement.