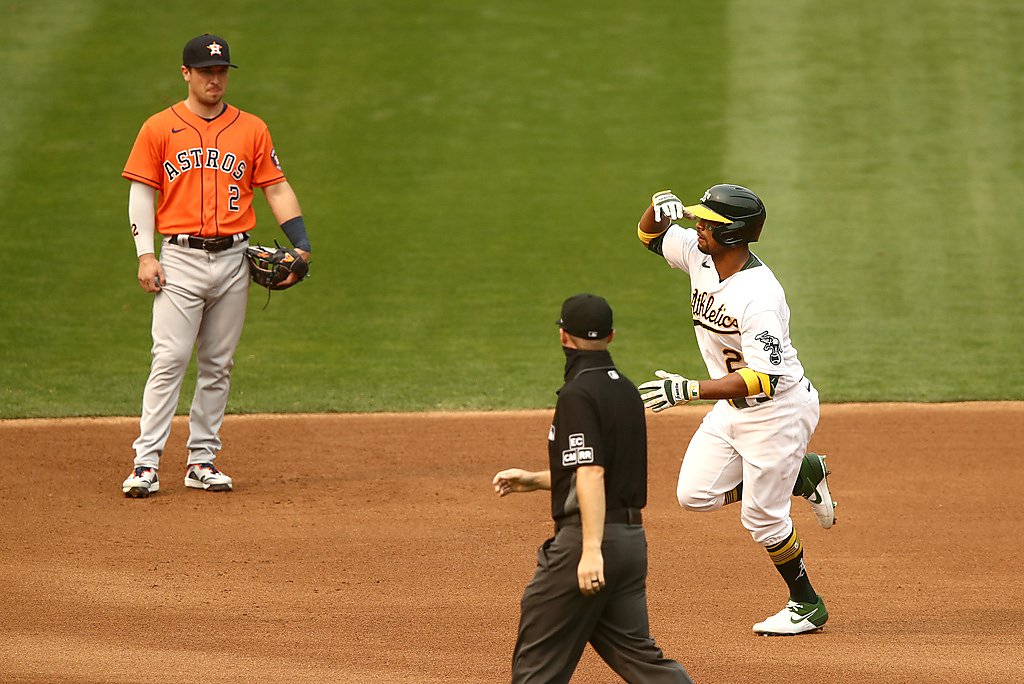 In a snapshot of current times, the A's played the first game of a doubleheader Tuesday against the Astros as the away team wearing their home white uniforms at their own stadium while ash from California wildfires sprinkled from the sky.
The A's won 4-2 under those strange conditions and in doing so grew their lead over Houston in the AL West to 5 ½ games, with another seven-inning contest still to play Tuesday evening.
Robbie Grossman's RBI single off of Zack Greinke broke a 2-2 tie in the sixth inning and Khris Davis followed with an RBI double, part of an encouraging game for the designated hitter who began the day batting .155 and also homered against Greinke in the third inning.
In his first at-bat, Davis drove a 2-2 fastball to right-center for his second home run and second of his career against Greinke, who had already beaten the A's twice this season and held them scoreless for six innings in Oakland on Aug. 7.
Tuesday, Montas pitched with runners on base in each of his five innings but twice stranded men on third and held the Astros scoreless until Michael Brantley's game-tying two-run homer in the fifth.
Reliever Jake Diekman pitched a scoreless sixth - the left-hander has not allowed a run in 15 outings this season - and Liam Hendriks recorded his 11th save, striking out George Springer and Alex Bregman in the seventh.