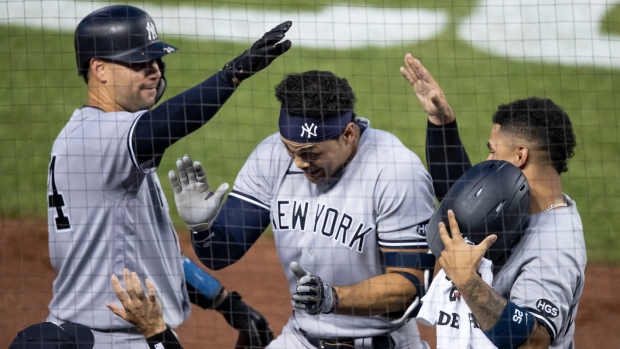 Facing two of Washington's top relievers, Torres homered in the seventh inning to begin the rally from a two-run hole, then tacked on a go-ahead single in the eighth, lifting New York to a 3-2 victory for wins in two of three games in the season-opening series.
On a sunny afternoon, with the temperature topping 90, Washington's Patrick Corbin retired 18 of the first 19 Yankees batters, Trea Turner homered off Jonathan Loaisiga, and Eric Thames provided an RBI single.
Nationals manager Dave Martinez then turned to a key new reliever, Will Harris, expected to help the team fare better in late innings than it did for much of 2019.
After a throwing error by Torres and Adam Eaton's double put runners on second and third for the Nationals in the eighth, Tommy Kahnle struck out Starlin Castro and Thames to get out of the jam.
Serving as the Yankees' primary closer while Aroldis Chapman is on the COVID-19 injured list, Zack Britton worked around a leadoff infield single and a passed ball charged to Gary Sánchez in the ninth for his first save of 2020.
It might just be this year's version of Washington's "Baby Shark" shenanigans: Bonifácio had red T-shirts made with a drawing of a gold horn, and Nationals have been pretending to play notes after base hits.