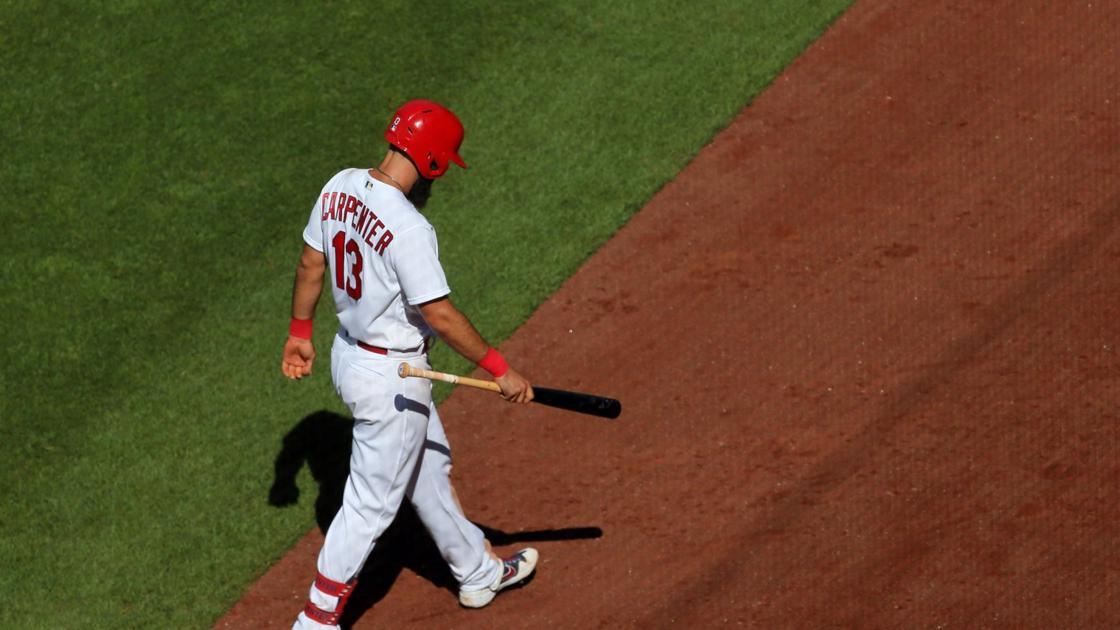 The Cardinals' Matt Carpenter walks back to the dugout after striking out to end the a game against the Pittsburgh Pirates on Sunday, July 26, 2020 at Busch Stadium.
Even following their 5-1 loss to the Pittsburgh Pirates on a sultry Sunday afternoon at Busch Stadium, the Cardinals have a share of the National League Central Division lead with the Chicago Cubs and, in fact, have not been out of first place since Aug. 22 of last year, more than 11 months ago.
Wong, cut down at home as he tried to turn into a triple into more on Friday, slid in safely this time as first baseman Colin Moran's throw took catcher Jacob Stallings to the first-base side of the plate.
"Loved the hustle play by Edman beating the pitcher to the bag," Shildt said, "and Kolten not taking anything for granted on the ground ball to the first baseman."
And Paul Goldschmidt, with the Cardinals down by three runs in the sixth, tried to put himself into scoring position when he saw left fielder Bryan Reynolds fumble his hit.
The Cardinals, who had trouble hitting with men in scoring position at various intervals last season, failed to take advantage of Pittsburgh starter Mitch Keller walking three batters in a five-hitter span in the second and third innings.