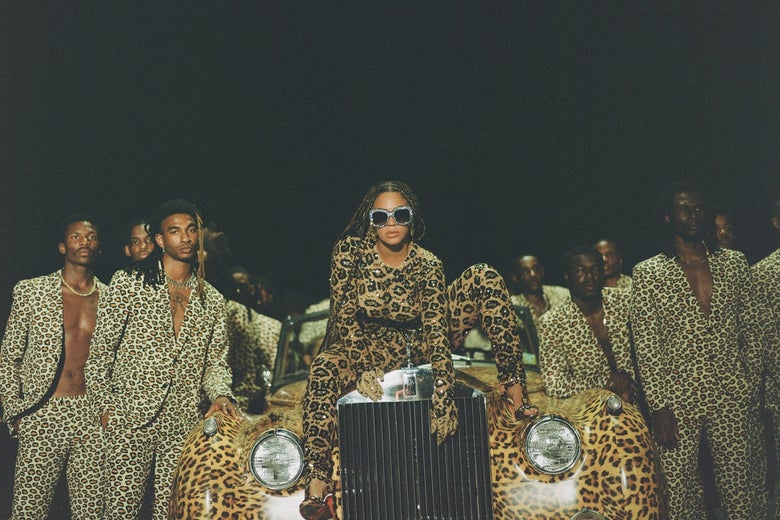 The list of directors credited on her new movie Black Is King , which arrives on Disney Plus on Friday, represents a dazzling roster of visual artists and filmmakers, Guggenheim fellows and veteran documentarians.
Adjei also directed a video for the Iranian-Dutch singer Sevdaliza's "Shahmaran," an Afrofuturist parable which begins with Black men lugging what looks like a space-age cruise ship through the desert, and culminates when one of them breaks free, makes his way into an underground room, and finds himself tempted by images of success: a sports car, a gun, a voluptuous woman, an LP.
On Instagram, Adjei said that he was " overwhelmed and honored " to have the image of a body floating in space above the earth chosen for Black Is King 's official poster, a good indication he's responsible that portion of the visual album.
Although it's explicitly inspired by traditional African storytelling—Bazawule said it was the kind of movie he could imagine his grandmother making if she'd had access to a camera—there's also a dose of the remix aesthetic and Afro-surrealism of his sometime collaborator Terence Nance, the man behind HBO's Random Acts of Flyness .
Most recently, he directed the socially distanced video for Nigerian singer Tiwa Savage's " Dangerous Love ." His 2017 short "Know the Ledge" features a young Black couple spending a day on the streets of Los Angeles, scored with songs by Josephine Baker and Louis Armstrong.
But while Rimmasch's work often has a grounding in vérité aesthetics, the "Sorry" and "Six Inch" segments of the Lemonade visual album (according to his website, he directedboth ) show it can also be lush and impressionistic, not to mention sensual.