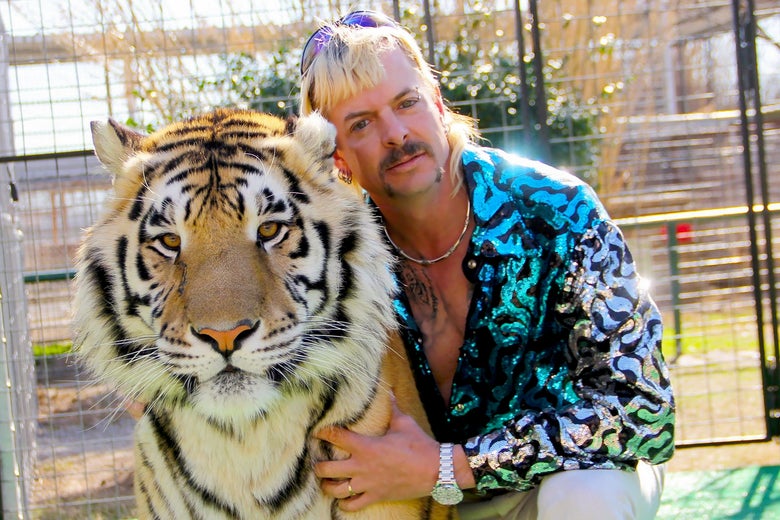 A self-described "gay, gun-carrying redneck with a mullet" who amasses one of the country's largest collections of wild cats, Joe Exotic (né Schreibvogel) would be a full meal for a more sedate series, but directors Eric Goode and Rebecca Chaiklin serve up a seven-course, five-hour banquet of off-the-wall characters, enough to justify their subtitle: "Murder, Mayhem, and Madness."*
Tiger King is also a sprawling, ethically shaky mess, starting off as an abstracted, Errol Morris–style character study (complete with knockoff Philip Glass score), shifting to a first-person filmmaker-on-a-quest framing, then settling into the familiar shape of a tabloid-TV magazine show—and that's just within the first 10 minutes.
The opening teaser spoils what ought to be the story's big reveal—that Joe, the garrulous, animal-loving proprietor of a private zoo, ends up in jail as part of a murder-for-hire plot—in the name of hooking viewers early, and the series keeps cutting back to phone interviews with him as it meanders its way toward its sordid conclusion.
Goode told Vanity Fair that Netflix pushed to emphasize the story's outsize personalities at the expense of the animal-rights themes he saw as its core, and the result is that when Tiger King tries to wrap up its lessons with a tidy bow, it feels like the conclusion to an entirely different series.
with Instagram-ready female trainers in skimpy outfits and styles himself as something between a cult leader and a god; Mario Tabraue, a Miami drug kingpin who gets into wildlife as a way of going "legit"; and Jeff Lowe, a Vegas financier who uses tiger cubs as a way to lure women into threesomes with his wife.
It's both overstuffed and undercooked, lavishing large amounts of time on salacious but thinly sourced detours—the entire third episode is devoted to unsubstantiated allegations against one of Joe's professional rivals—while breezing past people whose stories aren't quite batshit enough to make the grade.