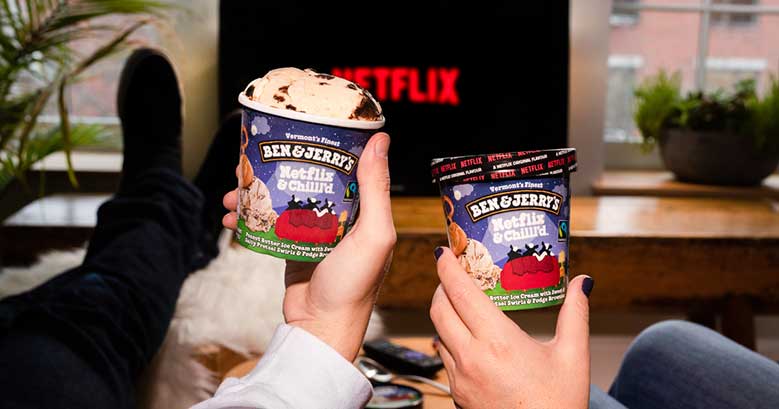 The new flavor is a peanut butter ice cream with salty pretzel swirls and fudge brownies chunks, and the tub's design features three cows sitting on a sofa, presumably binge-watching their favorite Netflix show.
Additionally, Ben & Jerry's said that it will soon launch a non-dairy version of "Netflix & Chill'd," made with almond milk, that will be suitable for vegans and those who are lactose-intolerant.
This isn't the first vegan-version Ben & Jerry's has produced—they brought out a line of non-dairy flavors in 2016, including classics like Chunky Monkey and Chocolate Fudge Brownie.
Before you get your hands on "Netflix and Chill'd," try pairing Peanut Butter Cup with The Chef Show , Milk & Cookies with The Chilling Adventures of Sabrina , Phish Food with Chef's Table , or Half Baked with Grace And Frankie .
Last summer, Netflix teamed up with Baskin-Robbins to create a Stranger Things-inspired menu, with ice creams including the Upside Down Sundae, Demogorgon Sundae, Byers' House Lights Polar Pizza Ice Cream Treat, USS Butterscotch Quarts, and an Elevenade Freeze.
The collaboration between Ben & Jerry's and Netflix will retail for $4.48 and $5.99 and will be sold wherever you usually find your pints of ice cream.