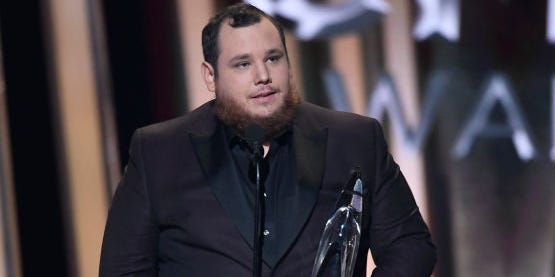 Luke Combs won Male Vocalist of the Year at the 2019 CMA Awards over Dierks Bentley , Thomas Rhett , Chris Stapleton , and Keith Urban .
Just as he got to the microphone to give his speech, a loud 'oooing' sound echoed through the audience, which many people thought could be booing.
The confusion from viewers was likely widely held since no one on stage or in the audience appeared to react to the sound.
Eventually, a consensus was reached when the Bridgestone Arena, the venue where the awards show was held, cleared things up.
A user on Twitter also supplied a screenshot from Instagram where Luke's fiancee, Nicole Hocking, answered a comment saying, "They said luuuuuke.
Luke had a big night at the CMA Awards, taking home the trophy for Song of the Year for "Beautiful Crazy" in addition to his first time win for Male Vocalist.