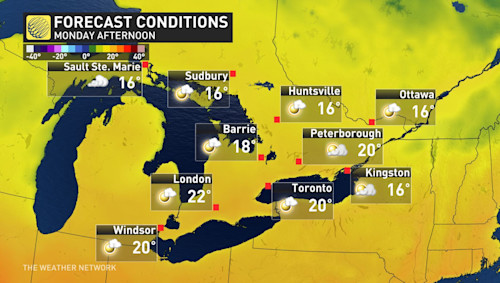 After rounds of thunderstorms, rain, and strong winds this weekend, another soggy system is tracking in to the region.
The good news is that this next system will not only be less powerful, but majority of the rain that does come down will be during the late evening and early morning hours.
The majority of the rain in this system will fall overnight Monday into Tuesday morning and then conditions will clear by the afternoon.
Less than 5 mm of rain is expected in the GTA, although there is the chance of higher accumulations in isolated, heavy showers.
We are closely watching a low pressure system developing stateside that is bringing the potential for a heavier round of mid-week rain, where between 5 to 10 mm could come down for many.
"The middle of next week will bring a return to a familiar pattern in which southern Ontario will once again be the battle zone between summer-like weather to our south and cooler weather to our north," Gillham says, adding that this will bring an increasing threat for a couple of periods of showers, thunderstorms and changeable temperatures.