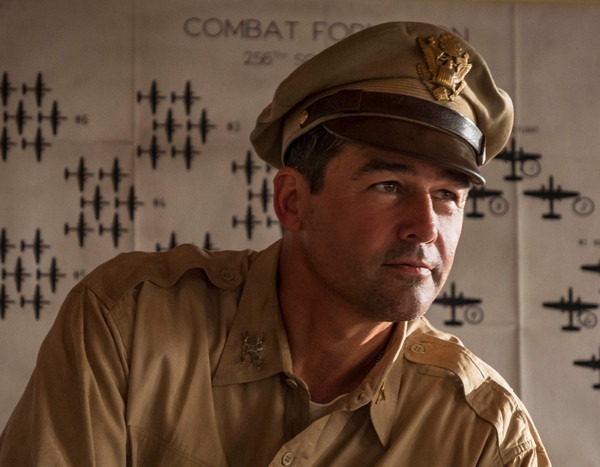 When we asked the cast to describe the show in three words, they gave us absurd, hilarious, dark, heartbreaking, human, harrowing, and according to Kyle Chandler, it's simply "Catch-22."
Catch-22 stars Christopher Abbott as YoYo, a US Air Force bombardier in World War II.
Per Hulu, "his odds of success at such a simple aim keep getting worse because Colonel Cathcart keeps raising the number of missions the men have to fly.
More than the retreating Germans, the real enemy for Yossarian and his rag-tag bunch of friends is the bureaucracy of the military, inverting logic at every turn.
The cast also includes Hugh Laurie as Major de Coverley, Giancarlo Giannini as Marcello, Daniel David Stewart as Milo, Rafi Gavron as Aarfy, Austin Stowell as Nately, Graham Patrick Martin as Orr, Gerran Howell as Kid Sampson, Jon Rudnitsky as McWatt, Kevin J. O'Connor as Korn, Pico Alexander as Clevinger, Tessa Ferrer as Nurse Duckett, Lewis Pullman as Major Major, Josh Bolt as Dunbar, Jay Paulson as Chaplain, Julie Ann Emery as Marion and Grant Heslov as Doc Daneeka.
In addition to Clooney and Heslov, executive producers include Richard Brown , Steve Golin , Luke Davies and David Michôd .