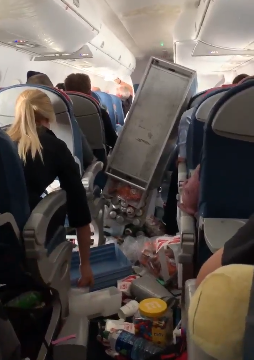 A Delta Air Lines flight-- operated by Compass Airlines-- from Southern California to Seattle was forced to make an emergency landing in Nevada Wednesday after hitting "severe turbulence" that caused a chaotic scene on board and sent three people to the hospital.
Justice posted a video of the chaotic scene after the plane had made an emergency landing in Reno, Nev.
Justice said the plane "did a nose dive, twice," but commended the crew for handling the situation "perfectly, even the emergency landing."
The non-injured passengers were treated to pizza and soda while waiting for the next flight to their original destination, the Reno-Tahoe International Airport said in a statement.
Delta later released a statement apologizing for the incident and promised to get its passengers safely to their original destination.
The National Weather Service in Reno had warned earlier of major winter storms through the end of the week and into the weekend, "bringing area wide heavy rain, snow, and strong winds."