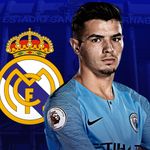 Diaz's representative is Pere Guardiola - Pep's brother - whose Media Base Sports agency co-own La Liga club Girona along with Manchester City.
Few need reminding of the consequences of Sancho's decision; as of January 2019, the 18-year-old has three senior England caps, as well as six goals and seven assists in the Bundesliga - most notably the winner at fierce rivals Schalke in December.
As mentioned, with such esteemed company in attacking midfield at City, Diaz was rarely given the opportunity to shine, but in joining Real - the home of the European champions - he is not now becoming the bigger fish in a smaller pond.
Diaz started in a different position in each of his three Carabao Cup games for City this season - central, then right, then left - and his ability to play across the attack makes him an enticing option, if at least from the bench, which is more than could be said during his time at the Etihad.
Real manager Santiago Solari has settled with a 4-3-3 formation since taking charge, meaning Diaz would be vying with Gareth Bale, Lucas Vazquez, Marco Asensio and Vinicius Junior for a starting position on the flanks.
Meanwhile, Solari's go-to substitution has been to introduce Isco - who has started five La Liga games but come off the bench eight times - and Diaz would also provide competition should the Real boss want to bring on a central attacking midfielder.