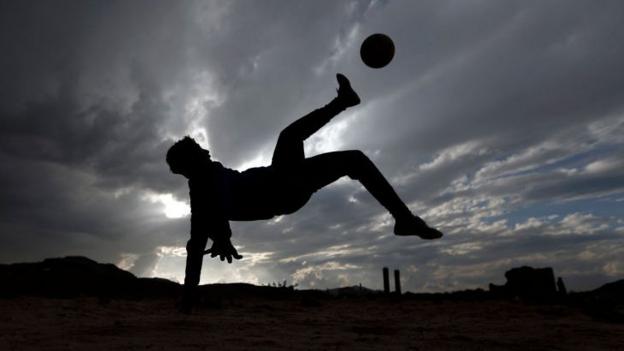 As Yemen prepare to get their campaign under way in the United Arab Emirates - they are outsiders in a group featuring Iran, Iraq and Vietnam - the tournament offers a small degree of respite for a nation ravaged by war and famine.
An armed Shiite Houthi rebel holds a ball at the compound of Sanaa's al-Yarmuk football club, which was reported hit by an air strike by the Saudi-led coalition the previous day in 2015 in the Yemeni capital's northern al-Rawda districtFootball has ground to a halt in Yemen.
Yemen were not at the 2018 World Cup but these Iran supporters made their protest against the war involving the two countries during the match against Portugal For new coach Jan Kocian, the challenges of preparing his team for a major international tournament are stark - and varied.
"I have to think about doing something else to earn money," Ammad Amr Talal told a camera crew recently on the side of the dusty patch of waste ground on which Al-Tilal, one of Yemen's biggest clubs, now train.
However, Abraham Mebratu, the Ethiopian coach who steered Yemen through the campaign, was gone within three months, complaining about a lack of financing and keen to take up an opportunity to lead his home nation.
Kocian adds: "We know we're the outsiders in the group, but in football a small country can dream of big victories, and we're all aware that qualification for the Qatar World Cup begins in March."