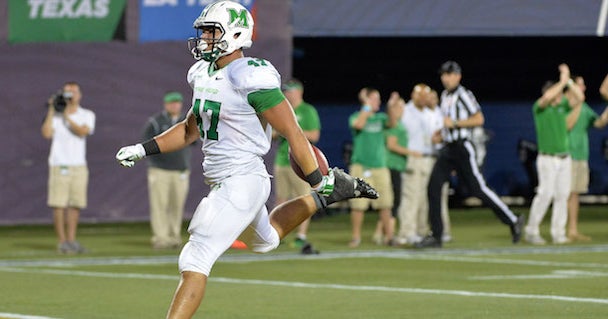 Devon "Rockhead" Johnson , a standout running back at Marshall University who had signed with the Carolina Panthers as an undrafted free agent for the 2016 season, died suddenly on Tuesday.
Enrolling at Marshall in 2012, Johnson went on to have an outstanding career with the Thundering Herd, standing out as part of the team's 2014 Conference USA Championship Team and running for 1,767 yards, including a school record 272 yards in a single game against Florida Atlantic.
He was named First-Team All-Conference USA, and was a semifinalist for the Doak Walker Award, given to the top running back in college football.
After averaging a school record 7.8 yards per carry during his college career, Johnson went undrafted in 2016, and signed with the Panthers shortly afterwards as a fullback.
As of Tuesday night, the Panthers have yet to issue a statement on Johnson's passing as they prepare to travel to Pittsburgh for their Week 10 game against the Steelers.
Johnson was part of an undrafted free agent class for the Panthers that included tight end Jake McGee , linebacker Jared Norris , wide receiver Keyarris Garrett , running back Andrew Bonnet, wide receiver Jenson Stoshak, and safety Jeremy Cash .